You know the people who take "smoke breaks"? You may even be one of them. Well, I don't smoke so I find it unfair that these people get quick 5 minute breaks 3 times a day, and I don't! To compensate, I take "blog breaks", "fashion breaks", and "contest breaks". Basically, throughout my days at work when I need a little pick me up, I depend on my favorite blogs, websites and magazines to give me a little escape from my day of banking. I'm going to share my favorites with you each Monday.
One of my favorite things to do, is head over to style.com and watch slideshows of runway shows. It's 5 minutes of creativity and inspiration that I desperately need to keep my pupils from turning to dollar signs or my bank's logo. My favorite this Fall is the
Ralph Lauren Fall 2010
show. I love the warm brown palette and soft floral accents.
Here are a few of my favorite images from the show: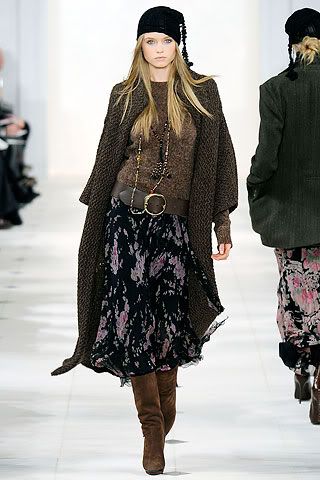 BLOG
I'm loving the images in this post at
apartment therapy
. Ikat is one of my all time favorite patterns/fabric. This picture is my favorite of the bunch:

CONTEST
Enter to win a limited edition Marc by Marc Jacobs tote at
http://www.ellecanada.com/contests/879
!!